Paying Homage to America's Backbone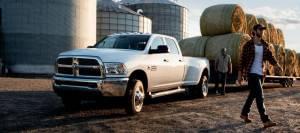 If there's one group of people that deserves a pat on the back for helping the people of America thrive for centuries upon centuries, it's the farmer. Regardless of the time period or current economic situation, the agriculture industry has played an integral role in keeping the population supplied with the essentials that we need to keep going. Find out how Ram is working to make sure the stories of the everyday farmer in America get told and their legacy continues on.
Year of the Farmer
Year of the Farmer is one way that Ram shows its support for individuals in farming communities. The Year of the Farmer is a blog dedicated to showcasing farmers and providing a platform to inform people about what it's like to live and work in the agricultural industry. By giving these individuals this platform, Ram also gives its readers a glimpse into how hardworking and dedicated the farmers of this country are.
Future Farmers of America
Another way that Ram shows their support for the hardworking men and women of the agricultural industry is by providing donations and partnering with the Future Farmers of America. The FFA is an organization that helps to show future generations the importance of the agricultural industry and provide them with the knowledge and the encouragement necessary to actively participate in keeping the industry alive. Not only does this program give youth an insight into what the industry entails, but it also provides incredibly important information that can assist them with educating themselves and others on the importance of creating and maintaining an eco-friendly environment.
Do Your Part Today
At Crestview Chrysler, we're proud to sell trucks from an automotive brand that is so active in making sure that the country can maintain a sustainable source of food for many years to come. You can learn more about some of the great trucks that Ram sells today by checking out our blogs regarding their truck's capacities and large engine selections. You can also visit our dealership to see these vehicles in person and learn more about preparing your vehicle for the winter.