An Inside Look at the Jeep Cherokee's Performance Capabilities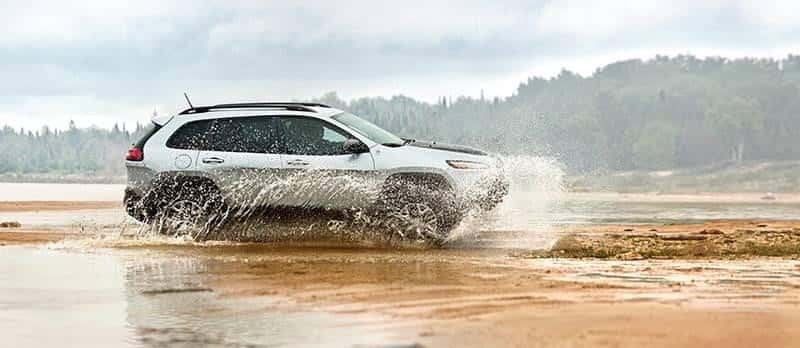 With A+ performance capabilities, the 2017 Jeep Cherokee takes you from A to B with plenty of horsepower, fuel efficiency, and a smooth ride. The Cherokee has four available powertrains into which we'll go into more detail below, but if you truly want to see the incredible power and fuel economy of this remarkable Jeep vehicle the best way to see it in action is at Crestview Chrysler. We hope to see you at the dealership soon to see the all-new Cherokee conquer all competitors!
Four Powertrain Options Offer Flexibility, Performance, and Efficiency
The new Jeep Cherokee offers four unique powertrain options designed for drivers of all stripes. Let's take a closer look at each one below:
3.0L EcoDiesel V6: The EcoDiesel V6 engine features remarkable fuel economy with 8.4L/100 km on the highway with a range of up to 1,100 km. It delivers an impressive 240 hp along with 420 lb-ft of torque. This powertrain option is the ideal balance between fuel economy and high-end performance.
3.6L Pentastar VVT V6: The Pentastar VVT V6 takes the redeeming qualities of the EcoDiesel powertrain and takes everything up a notch with 295 hp, 260 lb-ft of torque, and 2,812 kg of towing capacity. It also achieves 9.6L / 100 km on the highway and stop-start technology that automatically shuts off the engine at a complete stop while restarting when the brake pedal is released. This seamless efficiency delivers improved fuel economy.
5.7L HEMI VVT V8: With best-in-class towing capacity of 3,265 kg, 360 hp, and 390 lb-ft of torque, the 5.7L HEMI VVT V8 powertrain gives you tremendous power. This powertrain also incorporates FuelSaver MDS technology that automatically cuts the engine down to 4 cylinders on the highway and switches on the other 4 when you need maximum power.
6.4L SRT HEMI V8: Need maximum performance? The 6.4L HEMI takes you from 0 to 100 km/h in less than 5 seconds with a thundering 475 hp, 470 lb-ft of torque, and FuelSaver MDS technology.
Test Drive the Jeep Cherokee at Crestview Chrysler
See the Jeep Cherokee for yourself today at Crestview Chrysler! We offer great financing options designed to help you afford the right Jeep for you. Apply for financing today to get started!