Car Waxing Tips: A DIY Guide to Waxing Your Vehicle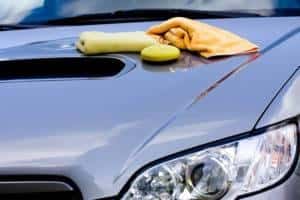 Is your vehicle starting to look a little dull? Want to turn heads on the Moose Jaw streets? Then it may be time for you to think about waxing your car to restore it to its intended shine. The good news is that a car wax can be done right from the comfort of your own home. Stay with us if you want to learn more about how to wax a car the right way.
The Process
Waxing your vehicle is a fairly simple process; in fact, it only consists of two main steps. The first step would be to make sure that you wash your car well. You want to make sure that when you wax your car you're working on a clean surface and don't have to worry about dust, dirt, or bugs being trapped between the wax and your vehicle. You may also want to polish problem areas, such as scratches, dents, and swirl marks before you continue to the next step.
After making sure that you've thoroughly cleaned your vehicle, it's time for the next step: waxing. Before you can get down to waxing your vehicle, you have to decide what is the best car wax for your vehicle. There are all kinds of wax variations like liquid wax, paste wax, and spray wax; there is no definitive best car wax as what's best for each vehicle is different. Each one comes with its own set of perks, so weigh the pros and cons of each to find the best kind for your vehicle.
For the best results, a few things to keep in mind before you begin the waxing process is that you should always work in a shaded area out of direct sunlight, work in small areas for better focus, apply in a back and forth motion, and use a sealant when finished to prolong the lifespan of the wax.
Get More DIY Tips on Our Blog
There you have it! Waxing your vehicle is just as quick and easy as reading this short guide was. Go ahead and try your hand at waxing your own vehicle now and enjoy the results. For more DIY vehicle maintenance, how-to guides, vehicle news, and much more, make sure that you keep up with our blog. For all of your other vehicle servicing or purchasing needs, drop by Crestview Chrysler today! After you learn how to wax your car, feel free to check out our car detailing services for any other jobs you want to complete! We're located conveniently near Southey.